New "Dog Tricks" Class at Godfrey's!
INSTRUCTOR: TANYA TURGEON, certified Trick Dog Instructor through Kyra Sundance's "Do More With Your Dog" program.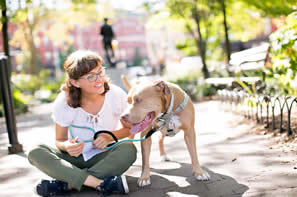 Tanya, with her pittie rescue, P. Gracie
photo courtesy Milla Chappell Instagram @realhappydogs
NOVICE "TRICKS" CLASS ($240 for 6 classes): In the Novice Tricks Class you and your dog will learn key concepts of positive training while working on a dozen plus tricks including; sit, spin, take a bow, peek-a-boo, paws up, hoop jump, and more!
Tricks class is designed to be a fun, creative, educational form of both mental and physical exercise for your pup. It's also a great way to strengthen the human-canine bond while working towards your Novice Trick Dog title (submission optional).
Interested in tricks classes but not sure a group setting is the best fit for your pup?
Does your dog already have a bag of tricks and you're looking for some new challenges?
NEED ONE-ON-ONE? One-on-one sessions to accommodate solo dogs, intermediate, and advanced levels are available! Call us for more information on fees.
PRE-REQUISITES:
--No age limit for pups
--No previous training experience necessary for either human or pup
--Lots and lots of tiny treats
--Clicker
--Treat pouch
--Same family member must be able to attend all sessions (trick dog titles are awarded to the dog-human team - must be same handler)
--No chokers, prongs, etc.
--Positive attitude and enthusiasm!
Want to talk more with Tanya about this class before registering?
Email her at tanya.turgeon@gmail.com!
INTERESTED? Complete the "Tricks Class Registration Form" at Godfrey's and make payment. You're then ready for more fun with your dog!

"Like us" on Facebook for Special Godfrey's Discounts and Give-Aways
Follow Me on Pinterest
Home | What is dogdom? | Our Products | Our Services | Events | Our Story | Directions
Come visit our shop in the beautiful countryside of Berks County.
We're near the heart of Lancaster County and myriad antique shops,
so make a day of it! Directions to our shop.

Godfrey's-Welcome to Dogdom
Phone: 610.777.5755
Toll Free Phone: 877-436-4366 (877-4-DOGDOM)
Fax: 610.777.5525
Email: info@godfreysdogdom.com
Address: 4267 New Holland Road, Mohnton PA 19540
Hours: Tues.-Fri. 10-6 Sat. 10-4 Sun. 11-4 Closed Mon.