New "Dog Tricks" Class at Godfrey's!
INSTRUCTOR: TANYA TURGEON, certified Trick Dog Instructor through Kyra Sundance's "Do More With Your Dog" program.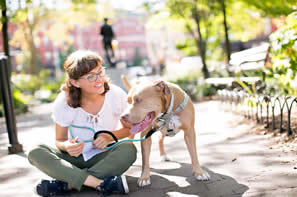 Tanya, with her pittie rescue, P. Gracie
photo courtesy Milla Chappell Instagram @realhappydogs
NOVICE "TRICKS" CLASS ($240 for 6 classes): In the Novice Tricks Class you and your dog will learn key concepts of positive training while working on a dozen plus tricks including; sit, spin, take a bow, peek-a-boo, paws up, hoop jump, and more!
Tricks class is designed to be a fun, creative, educational form of both mental and physical exercise for your pup. It's also a great way to strengthen the human-canine bond while working towards your Novice Trick Dog title (submission optional).
Interested in tricks classes but not sure a group setting is the best fit for your pup?
Does your dog already have a bag of tricks and you're looking for some new challenges?
NEED ONE-ON-ONE? One-on-one sessions to accommodate solo dogs, intermediate, and advanced levels are available! Call us for more information on fees.
PRE-REQUISITES:
--No age limit for pups
--No previous training experience necessary for either human or pup
--Lots and lots of tiny treats
--Clicker
--Treat pouch
--Same family member must be able to attend all sessions (trick dog titles are awarded to the dog-human team - must be same handler)
--No chokers, prongs, etc.
--Positive attitude and enthusiasm!
WHAT HER CLASS PARTICIPANTS ARE SAYING: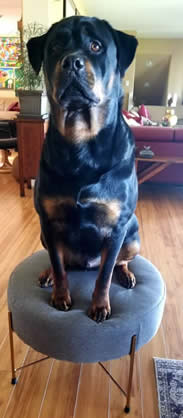 Christy and Ganji:
"This class came at a perfect time for us - Ganji was nearing 18 months, so there was a gap after the Puppy Start Right and (what was the private set of lessons called, Pat?) It was perfect to build on what we learned and best of all, it was a truly fun bonding time for us. I think a picture is worth a thousand words - here is Ganji practicing his "throne" trick." (Tanya has already seen this one) If this big oaf can learn tricks, any puppy can!"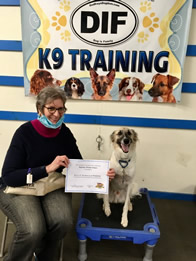 Susan and Puzzle:
" I'm having a blast in the tricks class. And I'm sure you've noticed that Puzzle couldn't be more enthusiastic!
It's really the most fun I've ever had with a dog!!!
And BONUS: Puzzle would rather practice spins and twirls than engage with the aggressive dog next door! What an improvement!
Re your training: (1) you really know your stuff!; (2) I like the way you identify what will work better for one dog as opposed to the other!; (3) it's really helpful that you send the list of tricks after each class."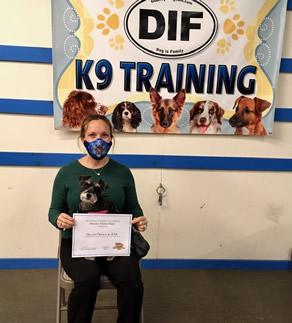 Gillian and Ava (2 yr old mini schnauzer):
"I am so incredibly happy I saw the information on the Dog Tricks Class at Godfrey's. Ava and I have had so much learning together. Tanya is so nice and so patient with the both of us. She has a laid back way of teaching that makes you totally at ease. Her encouragement and ability to show different ways to help Ava and I learn have been amazing. We loved the class so much that we asked if it could be extended. I highly recommend this class and Tanya for anyone looking for something fun to do with their dog."
Want to talk more with Tanya about this class before registering?
Email her at tanya.turgeon@gmail.com!
INTERESTED? Complete the "Tricks Class Registration Form" at Godfrey's and make payment. You're then ready for more fun with your dog!

"Like us" on Facebook for Special Godfrey's Discounts and Give-Aways
Follow Me on Pinterest
Home | What is dogdom? | Our Products | Our Services | Events | Our Story | Directions
Come visit our shop in the beautiful countryside of Berks County.
We're near the heart of Lancaster County and myriad antique shops,
so make a day of it! Directions to our shop.

Godfrey's-Welcome to Dogdom
Phone: 610.777.5755
Toll Free Phone: 877-436-4366 (877-4-DOGDOM)
Fax: 610.777.5525
Email: info@godfreysdogdom.com
Address: 4267 New Holland Road, Mohnton PA 19540
Hours: Tues.-Fri. 10-6 Sat. 10-4 Sun. 11-4 Closed Mon.