January 2013
Moving Forward: One Step at a Time - One Day at a Time -One Paw at a Time!
If there's one truth to getting through and conquering all that life throws our way in 2013, it's remembering to take things one step at a time, one day at a time. It's hard for me to remember this some days, but this trueism does work, whether tackling projects, getting over an illness or other physical set back, or improving something in my own life. And life demands of us to deal with change, whether we initiate it or it's thrust upon us, so '"we deal," one day at a time.
For our dogs, it's the same. They learn about their world and how to live with us in it from the time they are 8 week old pups in our arms or newly adopted "pups" we just added to our family. They put one paw in front of the other and tackle the world with us by their side, learning, growing and mastering new challenges and enjoying new experiences with us.
As this new year rolls out, may you find something that "gets you going" and brings to your life a feeling of excitement and renewal along with personal satisfaction. Maybe it's attaining a goal, no matter how small that goal might seem to others, it's a goal for you.
Whatever you do, it's movement forward, one step at a time and with your dog by your side, one paw at a time, for both of you. May you enjoy the journey.
Hugs to your pups,
Barb and the Staff at Godfrey's
Upcoming Event This Saturday!
Sat., Jan. 19: Canine Treadmill and FitPaws® for Canine Wellness Demo 10am-12noon
This event will be held in our Canine Learning Center.
Also included will be information about our upcoming "Puppy Pilates Socials" and "Senior Fitness" Classes.
It's January and it's that time of year when all thoughts turn to fitness and weight loss. But wait, not just for us. We should also be thinking about our dogs and their weight and fitness levels, too, so that they can achieve optimal wellness and extend their lives with us!
Treadmills and core conditioning programs aren't just for people any more; they are tools to increase the quality and the length of life for our dogs. What if you find yourself suddenly unable to exercise your dog due to illness or recovery from surgery and you see the weight piling on your dog's waistline thus stressing their joints. Not a good situation, right? Our programs can help your dog safely burn off that excess energy and calories! And it's fun and something different-new activities will challenge your dog's mind as well as body.
Come out with your dog this Saturday to a demonstration of our canine treadmill and FitPaws products. Let your dog try out the equipment under the guidance of Barry, Nicole, and Pat. Hear how this equipment can help your dog stay fit, achieve weight loss goals, burn off energy safely, and strengthen their core.
Change begins by putting one paw in front of the other. Let's get those paws up!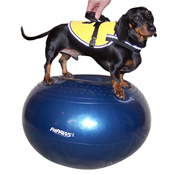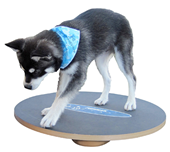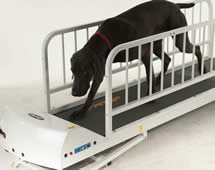 " Paws up" on FitPaws Equipment "Paws Up" on the Treadmill
New Products
Chuckit ball launchers and balls are awesome outdoor fetch toys. We use them in the dog parks here and boy do those balls fly! They now came out with an indoor version of the launcher and balls, where the ball and "roller" are made out of soft, lightweight material. It's a terrific interactive toy to use indoors on these long winter nights. Check 'em out in our Out-N-About room!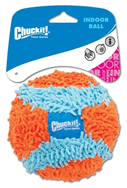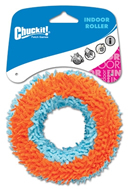 We've got the indoor rollers, indoor balls, and the launcher!
"Diggin Your Dog" treats is so much more than the cute names of their products: Clucks N' Gobbles, Clucks N' Moos, Strippin' Chicks, and Charki-O's, and Charki-Puffs. Their treats are low-fat and grain-free.
Another great product of theirs that we stock is FiRM Up Pumpkin, which is ground pumpkin. I like pumpkin in this form because it's great for taking it on the road with you as an 'insurance policy" if your dog gets tummy upset when visiting others or participating in events. No messy canned pumpkin to deal with and it's great for small dogs who take many days to finish one can. As you know, pumpkin is filled with nutrients and is effective in relieving diarrhea and constipation.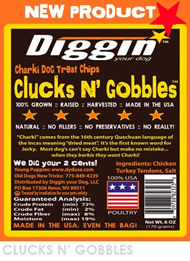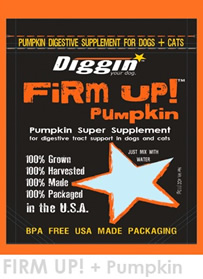 Per the "Diggn' Your Dog" web site:
"Diggin' Your Dog" is a 100% USA small grass roots company owned and operated by people who truly DIG YOUR DOG! We have rigorously sourced all ingredients from USA farmers and ranchers, offering products that you will feel safe and confident feeding to your loved pet. Our products begin and end in the USA... from the soil to the bag, it is our promise to keep our products real, and keep your pet happy and
healthy!"
Reminder of Great Savings at Godfrey's!

Canine Birthday Savings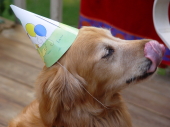 Is your dog a member of our Canine Birthday Club? If not, now's the time to register him or her in our club. It's free and it only takes a minute to register. Receive a one time per year savings discount of 15% off one dog item purchased during his or her birthday month!

Fromm Family Foods Frequent Buyer Program
If your dog's food of choice is Fromm's, then first of all, he or she knows what great food is! Secondly, you can enjoy some savings by buying this brand. Fromm Family Foods offers
a frequent buyer program: Buy 12 bags and receive the 13th bag free!



Orijen and Acana Frequent Buyer Program
We have a loyalty program for this exceptional food: Buy 10 bags and receive the 11th bag free!

VeRus Frequent Buyer Program
This simple formula food, great for sensitive tummies, comes in three varieties: chicken, fish and lamb. This loyalty program is: Buy 12 bags and receive the 13th bag free!
This monthly journal is well known throughout the dog loving community for it's wealth of information about natural dog care and training. Their articles provide in-depth information primarily about effective holistic health care methods and successful non-violent training methods. And the best part is that the journal does not accept commercial advertising. They do their own independent research.
Classes are now being scheduled starting the week of January, 2013 and it's not too late to register! See www.compk9.com for the class schedule at Godfrey's. You can register and make your payment on line. Not sure what class is right for your dog? Call Denise at 610-996-5959 to discuss your training needs.
Godfrey's is a collection site for two animal rescue organizations in Berks County: The Animal Rescue League and the Humane Society . We all know that owning and caring for a pet is a commitment of time and money and there are folks who want to do the best they can for their pets but are financially strapped. If your dog has outgrown a collar, harness or leash or you just want to switch up to another set, consider donating the items you no longer want or need to one of these organizations. Unopened treats and food are always appreciated, as are clean blankets and towels and new or gently used, clean toys. Also, check each organization's "Wish List" of items they need and see what you can do to help out.