"BLESSING OF THE ANIMALS" CELEBRATION - OCTOBER 1, 2006
St. Francis of Assisi, (c. 1181-1226), founder of the Franciscans, is the patron saint of animals. In his honor,
a life-affirming, critter-loving ceremony called the Blessing of the Animals is celebrated each year at many different venues around the world. We chose to have ours on the grounds at Godfrey's. Rev Jim Adam presided over our non-denominational ceremony. We gave out a "Protect My Pet" medal to all the dogs who attended.
Wherever it's observed, the Blessing of the Animals reminds us of the sacredness of all life and provides an opportunity to celebrate the animals who share our lives.
Below are photos of those who came out and joined other animal lovers for this very special ceremony.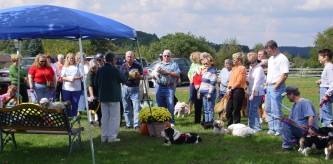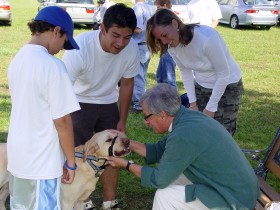 Rev. Jim Adam and those who attended Jackson receiving his blessing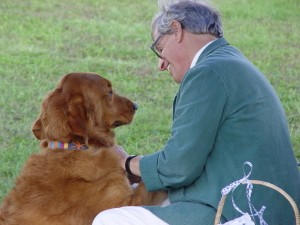 Rev. Jim Adam chatting with Sir Willy
---
Home | What is dogdom? | Our Products | Our Services | Events | Our Story | Directions
Come visit our shop in the beautiful countryside of Berks County.
We're near the heart of Lancaster County and myriad antique shops,
so make a day of it! Directions to our shop.

Godfrey's
Phone: 610.777.5755
Toll Free Phone: 877-436-4366 (877-4-DOGDOM)
Fax: 610.777.5525
Email: info@godfreysdogdom.com
Address: 4267 New Holland Road, Mohnton PA 19540
Hours: Tues.-Fri. 10-6 Sat. 10-4 Sun. 11-4 Closed Mon.