Puppy Classes, Training Classes, Dog Sport Classes and Specialty Classes
Veterinary Appointments offered by Dr. Sarah Urban, DVM, every Wednesday
Thera-Clean Microbubble Baths offered by Glenn Lesher, second Saturday in every month
Our Dog Parks for Safe, Fun Play (member park)
Wellness and Conditioning Programs for Canines
Workshops and Seminars-Watch for our "Lunch and Learn" sessions!
Nutrition Counseling-"Food is Medicine"
We understand how difficult it is in today's world to know what to feed your dog for optimal health and wellness. It's so confusing for many folks and it takes time and discernment to know the information sources you can trust. And sometimes topics truly are controversial, even in the nutrition community. All of our staff at Godfrey's can help you make better choices. You can trust us!
If you want a private nutrition consultation for a nominal fee, call for an appointment with Barb Emmett, proprietor of Godfrey's. She has been researching and learning about canine nutrition for over 20 years. It all started with her first golden retriever, Tucker. Barb has always been somewhat of a bookworm. She's also an analyst with a logical, problem-solving mind, having working as a computer analyst and systems designer for many years in her professional career. With dogs as her passion, she has kept up with the latest findings in nutrition topics and foods for dogs, earning a Certificate in Canine Nutrition. Plus she has the right resources to help glean solid information about what's good and not so good in the world of pet foods. Want to make an appointment with Barb? Call Godfrey's at 610-777-5755!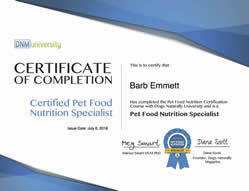 Barb has spent over 20 years reading, researching and learning about canine nutrition as it relates to the foods in the marketplace available to them. She is able to discern what constitutes reputable and respected information out there in the world. Comparative nutritional analysis in pet foods is near and dear to her heart and it is a passion for her to help pet parents find better nutrition solutions for their dogs, sending them on the road to better health.
Doggie Play Groups in our Two Dog Parks
Dogs are pack animals, and there's nothing like dog play. We love to watch them play, and well, they just love to play! Here at Godfrey's, you can register your dog for a play group, form a group with other play buddies, then schedule your group for playtime, or you can book private family time for just your own dogs.
Learn more about our "membership only" dog parks.
NOTE: Since 2020, we have not been actively forming new plays groups nor adding new members to our exisiting groups. If your dog(s) and a friend's dog(s) are already successful playing off leash and want to start your own group here, then please come on out! For your dog(s), it's the fun of the car ride with you, getting out of the house, arriving at Godfrey's, taking in the scents around us, and running unencumbered and free, safely in our park!
The Benefits of Joining for Private Family Play Time: In 2020, many folks were happy to join with their own family dog(s), to get out of their house and yard, and enjoy the outdoors in our safe, fenced park; to be without the masks, to relish in the fresh air snd sunshine, to practice training skills, such as recalls, and to have fun chasing frisbees, balls, or bubbles! Our country parks are here for you and your own dogs to enjoy the peace and calming outdoor environment!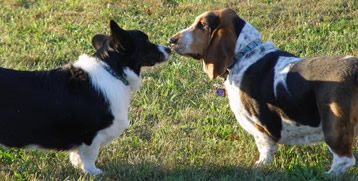 Wellness and Conditioning Programs for Canines
At Godfrey's we are all about the whole canine-mind, body and spirit. We like to think in terms of taking a pro-active approach to health by doing things to prevent health problems in the future. We humans are used to thinking about wellness for ourselves; the same philosophies for wellness can and should be applied to our dog's lives.
DEFINITION of WELL·NESS —noun
- an approach to health care that emphasizes preventing illness and prolonging life, as opposed to emphasizing treating diseases.
- the quality or state of being healthy in body and mind, esp. as the result of deliberate effort.
It's all about nurturing the mind, body and spirit: the best nutrition you can feed your dog, plenty of water, regular exercise, play, stimulation and learning, natural healing, body conditioning to remain strong, natural supplements when needed, complimentary holistic treatments used in conjunction with conventional veterinary care and lots and lots of love and positive experiences.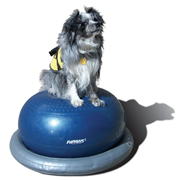 Check out our wellness programs and start something fun and healthful today!
Training Classes, Dog Sports Classes and Specialty Classes
We've got classes going on all the time! See our information about our training program.
There's so much to learn and to keep up with in the the world of dogs and dogdom.
Workshops we've held include topics such as:

CPR/Pet First Aid

Canine Reiki - How to Give Reiki to Your Dog - Taught by a Master Level Reiki Practitioner

Natural Flower Essences and Herbs

Canine Nutrition

Canine Dental Care - Taught by a local veterinarian specializing in dentistry

Animal Communication

Creating a Canine Scrapbook
...and those are just a few!
Check back often on our Events page to see what's happening! Some are at no cost to you, but most are fee-based.
If you're an expert in any field of 'Dogdom' and would like to offer a workshop at our site, please contact Barb at 610-777-5755.
Find a product in our shop that you love but you don't see it in your breed? Tell us what you are looking for and we'll order it for you in your breed if it's available.
Wish Lists
When you fill out your Godfrey's Wish List and let your friends know that you've done so, they can come to Godfrey's and pick out a gift for you or your dog from your list…your friends will be assured that they're giving you and your dog gifts that truly make you smile!
And when you just don't know what to give as a gift, purchase a Godfrey's gift certificate.
---
Home | What is dogdom? | Our Products | Our Services | Events | Our Story | Directions
Come visit our shop in the beautiful countryside of Berks County.
We're near the heart of Lancaster County and myriad antique shops,
so make a day of it! Directions to our shop.

Godfrey's
Phone: 610.777.5755
Toll Free Phone: 877-436-4366 (877-4-DOGDOM)
Fax: 610.777.5525
Email: info@godfreysdogdom.com
Address: 4267 New Holland Road, Mohnton PA 19540
Hours: Tues.-Fri. 10-6 Sat. 10-4 Sun. 11-4 Closed Mon.