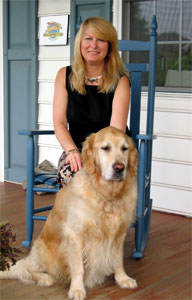 My husband and I are lucky enough to have shared our home all of these years we've neem together with 7 amazing dogs over time-6 golden retrievers and 1 english springer spaniel. Our dogs are not our pets, they are family. We want to make the right choices for their health, nutrition and lifestyle so that we can extend their short lives as much as possible. We want to have fun with our dogs, and we want them to be happy, well-adjusted canine good citizens.

My journey into the world of dogdom seriously began in 1998 when my husband and I brought our first first golden retriever puppy into our life and home. I fell hopelessly in love with this adorable creature and I wanted to know everything I could about raising a healthy, happy, well-adjusted dog. I approach all things with an intellectual curiosity so I immersed myself in learning all about nutrition, wellness, exercise, vaccination protocols, best products on the market and on and on. I was the person back then in 1998 sending my veterinarian articles about pet food and asking questions about ingredients. Thankfully, I had a vet then who wanted to learn along with me and encouraged me to keep asking the questions. My dog-themed book collection and pile of research materials grew and it continues to do so to this day!
I also realized early on with our golden that having a safe, off leash place for him to run and socialize was key to keeping our sanity! "A tired dog is a happy dog" became our mantra. As a result, I worked for one full year in 1998 to research off-leash dog parks throughout the country, even visiting one in California! Told you...I'm a researcher! My research was an inch thick. I had testimonials from national, well-respected trainers and animal behaviorists, supporting the need for off-leash socialization. I had legal issues ironed out; all kinds of issues were addressed. I had enlisted the support of about 15 fellow dog lovers wanting an off-leash park here in Berks County and they were willing to serve as volunteer board members. Our group of volunteers presented our proposal to the Berks County Parks Department and County Commissioners and did not meet with success. I guess the idea was way ahead of it's time. This was 1998, you know. So I put the idea on the back burner channeled my energies into a cause where I could make a difference: breed rescue.
Our love of the golden retriever breed led us to learn about the plight of homeless goldens.
We became volunteers for Delaware Valley Golden Retriever Rescue. (www.dvgrr.org) We took on active roles with the organization: my husband was the Capital Campaign Chairman to raise funds for the organization to purchase the 4 acre facility it sits on today and I served as the adoption team leader for a few years. While trying to place goldens in the best home situation could keep me up at nights some times, the greater part of the postion was truly so joyful-finding a "forever home" for a homeless golden. And being a gardener, I was lucky enough to be able to design and work with a team to install the Rainbow Bridge Memorial Garden at the rescue facility. And yes, we adopted golden souls meant for us from the rescue over these many years-each one a true child in my heart, each one unique, special and truly amazing.
Aas I saw my life change immeasurably by loving and being loved by my dogs, I recognized the power of dogs to truly change lives, and most importantly, mine! I wish I could have learned that lesson sooner in my life. On my life's journey, I obtained a Teaching Degree, a Computer Science Degree and I worked in the field of Information Technology for most of my corporate work life and worked as a computer programmer, software project manager, software quality assurance specialist, and a web content manager.I also did some corporate training, curriculum development and instruction. But by my mid to late 40's, I knew I wanted to work and be around dogs. They are true. They are grounded in the here and now. Their souls are pure. Their loyalty, love, brains, heart, truth, and unwavering affection has taught me so much over the years.
So.....

My vision was to make Godfrey's the place for all of us who love dogs to celebrate the dogs in our lives. To create a beautiful, yet comfortable environment where fellow dog lovers could shop for high-quality, unique dog-themed items to make them smile and to make their dogs smile, too (yes, they really do smile!). To be a place where dog parents could buy super premium dog foods, holistic supplements and healthy treats, share stories with others, attend events with their dogs, and have fun! My vision became reality when I opened the doors to Godfrey's in July 2004.

Godfrey's is truly a special place for me and the dogs we have loved over these years. In 2021 we brought home Keeper, a golden retriever who is now our Greeter in Training at Godfrey's. We hope that Goffrey's becomes that special place for you and your dogs, too!
Photo: Me & Jackson Godfrey, our 1st O.G. who crossed Rainbow Bridge January 2010 and is sadly missed by all. He loved being at Godfrey's and greeting and meeting all of you whom he got to know. He comforted many with his quiet presence and the wag and thump of his tail. I love you JG. You were one amazing soul. Thank you for taking the Godfrey's journey with me.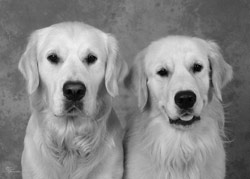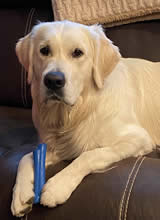 Lake and Charlie Summer 2010 Keeper 18 mont hs old 2022
Nicole Weersing, Play Park Co-Ordinator, Canine Conditioning Coach, Sr. Sales Associate and Karen Pryor Certified Instructor for the "Puppy Start Right" Program (June 2015).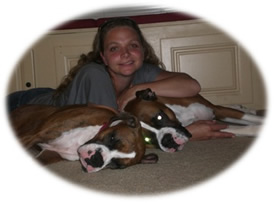 Nicole joined our team in June 2011
Hello, my name is Nicole. I am very excited to be a part of the play park, and hopefully seeing you and your dog here when our conditioning and wellness program comes together here at Godfrey's.
I have had a lot of experience working with animals. I worked as an equine technician at Willow Creek Vet Center. I also assisted in animal physical therapy there using the laser, under water treadmill and ultrasound. I have worked as an assistant barn manager and have worked in some canine boarding facilities. I have also worked in retail and customer service.
I was a stay at home mom for many years. Currently, along with working at Godfrey's, I groom King Charles Cavaliers. Here at Godfrey's, I attended a canine Reiki class. Since then I knew I wanted to be a part of the team. I am looking forward to fullfilling my passion for dogs here at Godfrey's. I am fascinated by dogs communicating with us and themselves. I am looking forward to helping our customers make good choices in their dog care. I also am a firm believer that Dog is Family.
More about myself: I got my first dog when I was a child. She was a black lab named Taj. She taught me about unconditional love. I was hooked. My love for dogs had started. I have had many dogs throughout the years from Labs, to Rottweilers, to a Shetland sheepdog, to my English mastiff and then of course my boxers. I lost my first boxer Jaya when he was 9 and my beloved mastiff Sophia at age 3. My boxers names now are Layla Lou and Jasper. My husband and I fell in love with the breed when we were on the Sassafras River and saw a boxer on a jet ski with his life jacket on! We said "We need one of those in our life!" We got Jasper 5 years ago after Jaya had died; there was no life in the house without our boxer. Then shortly after, Sophia passed. Jasper was lonely, we were missing something, so we got Layla. Life was good again.
I have been married for 22 years, as of 2021. I have three children, Riley, Isabella, and Everett. My children have reached an age where I can start on my path for my passion, which is to be part of a team that is all about the well being of our four legged children. I look forward to helping you with your concerns, diet and over all wellness of your dogs.
Lisa Metzger, Sales Associate
Lisa joined our team in December2020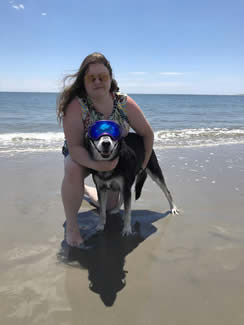 Hello Pet Peeps! The people who truly believe pets are family!
Although I have always had an abounding love for animals, I have been a passionate and dedicated to pet nutrition since I first started my career at Pet Valu in October 2011. I've experienced a diversity among locations, where I was able to work my way to managing my own store. It was a great way to dive into something I'm so heartfelt about…helping pets (and their owners) live their best lives. I've worked with and have met many great people from co-workers, to trainers, to rescue groups I've been able to participate with fostering (and failing), and a stint of doggy daycare and doggy sitting. I have also had the opportunity to go to different conferences to learn about nutrition as well as taken courses through U.C. Davis for a certificate in pet nutrition. It was bittersweet when they closed, but I'm very excited to be starting my next chapter at Godfrey's as of December 2020, and can't wait to see all that's in store for the future.
Some fun facts about me is I'm absolutely nuts about animals. A big motto of mine is: "Even if you can't change the world, you should change the world for all you can." My love of animals drives my desire to truly help as many as possible. This has led to including a wide variety of animals in my life, and I couldn't imagine them not being and essential part. I love jewelry, both for myself and my dogs (there's no such thing as too many collars). My favorite color is bright/shiny, and I have a severe addiction to ranch. But it's only a problem if you can't admit it…right?
Misty Matecek, Sales Associate
Misty joined our team in 2023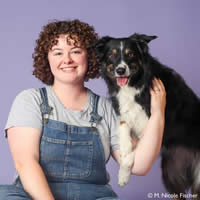 Hey, there! I am happy to join the team at Godfrey's Welcome to Dogdom and I am excited to assist fellow pet paw-rents!
I have been passionate about animals for as long as I can remember and I have found ways to weave them into just about every fiber of my life, from volunteering for many animal-centered organizations, to pet sitting and doggy daycare. Growing up, I had dreams about having my own show dog and would practice in my living room with our family's Cairn terrier. But then a friend invited me out to watch a flyball tournament and I was quickly hooked on dog sports! I later welcomed my Border collie puppy, Frost, into my life and together we have enjoyed flyball, agility, frisbee competitions, and more! Raising Frost made me fall all the more in love with dog training, behavior, and wellness and introduced me to such amazing people in the animal-loving community.
I recently received my bachelor's degree in Biology & Animal Behavior and I have been lucky enough to work with service dogs in training from birth to adulthood, as well as law enforcement canines, search and rescue dogs, and other working dogs! I've instructed community puppy classes, and have experience with one-on-one training with pets. My special interests are in canine fitness and helping dogs be active, willing participants in their own care and training. Having lived with and loved sensitive dogs, they hold a special place in my heart, too.
When I am not at Godfrey's, I'll be working on continuing my education. In my free time, you can find me hiking or training with my dear Border collies and Schapendoes.
I look forward to meeting you and your four-legged loved ones!
Thanks,
Misty
Karen Gerth, Sales Associate
Karen joined our team in 2022.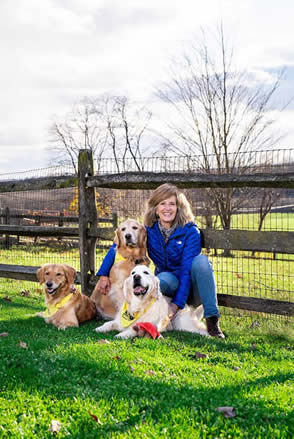 Hi I'm Karen and very excited to be joining the Godfrey's Dogdom family! I'm looking forward to helping out here in any way I can and where ever needed. It's the perfect job – helping others who share our passion for our canines buddies.
I'm enjoying being retired from my former position as Executive Director and Founder of KPETS – Keystone Pet Enhanced Therapy Services. KPETS was my calling in life. It took a half a century to figure it out but it was worth then journey.

Once my son was grown up and on his own and I married my soul mate, I realized how truly blessed I was and I wanted to give back to the community in some way. I became a big sister for one year, but it just wasn't a good fit. I then volunteered for a service dog organization and helped work with two service dogs in training. One went on the be teamed up with a disabled man. The other one, shall we say, was encouraged to pursue a "career change". When this precious golden, Cinda was released from the program, I was lucky enough to buy her. She was our first golden. At that point in my life I realized I was not cut out the raise these pups and then give them up. Soon I learned about pet therapy and found it was very rewarding. It was a win-win-win situation. My dog got the attention she loved, I got to spend time with my dog, AND we helped people at the same time! We volunteered for two different national therapy dog organizations but neither could keep up with the demand to register the volunteers that were interested.
After hearing my pastor at church speak on "Vision" every January over the past several years, I started to believe him. That, with God's help and guidance, I could pursue my dream and with His help, I could make it happen. I researched the various national therapy dog organizations and their screening processes, insurance needs, non-profit status, etc. In 2002 I set ourtto from what is now called KPETS. Twenty years later, I've finally retired and handed over the reigns and am ready for my next chapter in my life. I'm looking forward to a slower pace, less stress and more time for family and friends. Of course spending time with our goldens is also something I'm thankful to be able to do. Cinda was our first golden, hooking us on the breed for life. We've now had seven goldens over the years: (Cinda, Sammy, Podley (our first tripod) and Max – are all in Heaven. Currently we have Zeke-soon to be our first teen-age golden, Kody and Kylee (our second tripod).
Another Golden thing you may e interested in is Dewey's Golden Jubilee. I could go on about that too, but just check it out at www.deweysgoldenjubilee.org or Dewey's Golden Jubilee | Dewey Beach DE | Facebook .
There was one thing about being retired that I was concerned about. Will I be bored, having so much time on my hands?
When Barb mentioned she was looking for help, I thought what a great way to stay busy, stay connected to the community and be able help her out. Another win-win-win situation.
I don't have all the nutrition knowledge as the others but I'm excited to learn from Barb and my co-workers. If I can't help you, I know I can get one of them to assist you with any questions you may have.
Pat Emmett KPA CTP, Inventory Manager, Retired Training Program Manager and Instructor
(Pat retired officially from running Training classes as of 1/1/2022, but is always available to chat.)
Pat is Barb's husband of 49 years, as of 8/2023.
Pat is our Inventory and Operations Manager.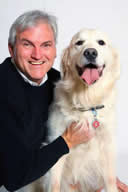 Pat is a graduate of the Karen Pryor Academy for Animal Training & Behavior and is a Certified Training Partner of the Karen Pryor Academy (KPA-CTP). As a Certified Training Partner, Pat has taken the Karen Pryor Academy Pledge. Retired as President of his company after 37+ years in food production and distribution services, Pat began taking a more active role at Godfrey's, working alongside his wife, Barb, the owner of Godfrey's-Welcome to Dogdom. He immediately saw a need to assist families assimilate a new dog as a valuable member of the family unit. His passion and interest in helping them took off.
Having a love of dogs goes way back for Pat. He was raised in a home where dachshunds
ruled-both his parents and grandparents cherished the breed. When it was time for him and Barb to bring a dog into their young married life, they chose an english springer spaniel, named him Casey, and he lived a long and happy life with them. Along the way, they had great cats, too, who shared their home. In 1998, their first golden retriever, Tucker, came into their lives. Life was busy keeping up with Tucker! Training classes, hikes, tons of walks, park runs, etc. Love of the breed, love of dogs, and their adoption of another golden retriever, led him to become involved with a local rescue group, Delaware Valley Golden Retriever Rescue (DVGRR). Wanting to help the organization grow, he took a position on their Board, serving over 7 years, and co-chaired the capital campaign to raise money needed to purchase a permanent shelter facility on Vera Cruz Road in Reinholds. DVGRR met their goal in 9 months! During the early days of rescue work at the new facility, Pat took many shifts, working with the rescue goldens. Many times you could find him in a kennel run with a kind but scared golden, coaxing and encouraging the dog and slowly working on building trust. As the organization grew and volunteers learned the ropes, he continued on the Board until he was needed to help at Godfrey's! Pat and Barb remain members of the DVGRR organization.
Knowing how therapy dogs can comfort others and literally change lives for the better, and wanting to do more with his own dogs, he pursued obtaining therapy dog certification. In 2012, he enrolled in a therapy dog orientation session run by Keystone Pet Enhanced Therapy Services (www.kpets.org), and in no time at all, he and Lake were certified as a Therapy Dog Team! They continue to make monthly visits to a local adult community center and help out at other KPETS events.
Pat and and his wife Barb reside with two English Cream Golden Retrievers, Lake and Charlie. Charlie was adopted from DVGRR as were 3 of their previous goldens. Pat is a graduate of Wilson High School, Shippensburg State College, and is an active Private Pilot. He also enjoys playing racquetball.
01/2018: Barb Emmett,"Honorable Mention" Essay winner, in professional publication: "Magic Can Happen" Editor's note: This is one of three honorable mention winners in the Pets+ essay contest. Pet-industry professionals submitted essays in response to the prompt, "Tell us the story of your single greatest day in business.". Read the essay here.
12/2015: Godfrey's Donates Concolor Fir Tree to the City of Reading. Our second fir tree was donated to
Immaculata University to grace their beautiful rotunda on campus.
05/2015: Pet Age Magazine We are the business featured in their "Community Retail Corner"
This is a B2B publication for pet businesses.
07/2014: Happy 10th Anniversary, Godfrey's!
01/09/14: No dogging it here-Godfrey's-Welcome to Dogdom offers an indoor workout area to keep your
four-legged friends fit. (Reading Eagle newpaper article)
09/07/12: Local parks dedicated to giving canines a chance to romp and stretch their legs
02/2012: Artistic Dog Draws Crowd at Valentine Event
11/2011: Dog and His Ghostwriter Visit Berks
12/2010: Our interview in the Wall Street Journal-Pets and Greeting cards
07/2010: We were featured in "The Good Life" magazine supplement in the Lancaster newspaper
11/2008: Voted a 2008 "Reader's Choice Award" favorite pet boutique by Greater Philly Tails
Pet Magazine readers.
05/12/2007: Godfrey's receives "Entrepreneurial Excellence" award from Chamber of Commerce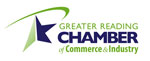 12/30/2007: Godfrey's named a 2006 finalist for prestigious Forbes Enterprise Award

11/12/2006: "Shops that Pop" (PDF)
Reading Eagle-Business Section newspaper article.
Godfrey's named a "Shop that Pops" by national retail expert, Pamela Danziger from
Unity Marketing.
07/2006: Godfrey's wins "Retailer of the Year 2006/2007 Merchandising Award", a national

08/09/2004: "A Pooches Paradise at Godfrey's-Welcome to Dogdom, where the Canine is King" (PDF)
Reading Eagle-Business Section newspaper article
Opportunities at Godfrey's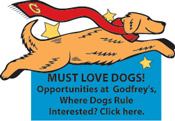 Home | What is dogdom? | Our Products | Our Services | Events | Our Story | Directions
Come visit our shop in the beautiful countryside of Berks County.
We're near the heart of Lancaster County and myriad antique shops,
so make a day of it! Directions to our shop.

Godfrey's
Phone: 610.777.5755
Toll Free Phone: 877-436-4366 (877-4-DOGDOM)
Fax: 610.777.5525
Email: info@godfreysdogdom.com
Address: 4267 New Holland Road, Mohnton PA 19540
Hours: Tues.-Fri. 10-6 Sat. 10-4 Sun. 11-4 Closed Mon.