Anniversary Celebration - Godfrey's turned 1!
We turned 1 on July 24th, 2005, and we said a big, hearty thank you to all of our customers, human and canine, for shopping with us, delighting us with their stories, and telling us they're happy we're here. We're happy to be here,too! It's been a great first year and we look forward to many, many more!
To start off, we had a fantastic shop-wide sale during the week of July 24th-July 31st. Everybody loved that.
To get things moving, we had "Agility Demonstrations" and "Canine Massage" Demonstrations. Heard about dog agility and wondered what it's all about? Agility is a sport in which a dog demonstrates its agile nature and versatility by overcoming different obstacles. In this sport the handler is given a set amount of time to direct their dog off-leash around a course. It's a great way to have fun with your dog and you both get lots of exercise! Linda Madeira was kind enough to come out that day along with Renee Caspecha to show us the moves. It was fun to watch some dogs having a grand 'ole time running agility with an experienced agility trainer. And the neat part about it was that any dogs registered as Godfrey's play group members were invited to try their "paws" at running the agility route. Seems a yellow lab named Jackson has great potential!
We also had a canine massage specialist here to talk about and demonstrate canine massage techniques you can try with your dog. She gave a complimentary massage to all dogs who were interested, and believe us, many were VERY INTERESTED and took her up on her offer!
On the last day of our celebration week, we held an "Ice Cream Social." Every person who came out got a free scoop of "Udder Choice" ice cream, an Ephrata, PA favorite. They could choose from one of four flavors: chocolate lab (chocolate); bichon frise (vanilla); westie (coconut); or dalmatian (cookies & cream), while the canines enjoyed healthy 'pupsicles'.
Andy Loercher, local redware artist, also participated. Thanks, Andy! Using red clay pottery from Lancaster County, Andy has produced many collectible redware pieces over the last 25 years. He was an art teacher in the Ephrata School District, retiring May 2005, giving him more time to devote to his pottery. His whimsical, artful depictions of various dog breeds on tiles, ornaments, bowls and pie plates are very special and make great gifts. We've carried Andy's work since opening our doors and folks continue to collect his pieces or buy them for gifts.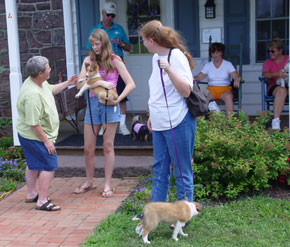 ---
Home | What is dogdom? | Our Products | Our Services | Events | Our Story | Directions
Come visit our shop in the beautiful countryside of Berks County.
We're near the heart of Lancaster County and myriad antique shops,
so make a day of it! Directions to our shop.

Godfrey's
Phone: 610.777.5755
Toll Free Phone: 877-436-4366 (877-4-DOGDOM)
Fax: 610.777.5525
Email: info@godfreysdogdom.com
Address: 4267 New Holland Road, Mohnton PA 19540
Hours: Tues.-Fri. 10-6 Sat. 10-4 Sun. 11-4 Closed Mon.