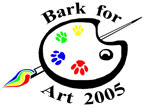 "BARK FOR ART 2005" at the READING PUBLIC MUSEUM - Sat., May 14th
(sponsored by Godfrey's-Welcome to Dogdom)
Berks County residents may remember coming to the Museum grounds to parade in their Easter bonnets and best Spring clothes. Well, this year the museum put a new spin on an old tradition: people and their dogs came to show off their Spring finery or their best art-related costumes and won prizes! There was also a bone hunt for all of the dogs that registered and Godfrey's provided over 250 homemade biscuits for the hunt. This fun fundraising event for the Humane Society of Berks County was held at the Museum Arboretum. Prizes were awarded in various categories, including a prize awarded for the lucky pooch who found the golden biscuit and a prize for best costume. Charlie Adams, local historian, travel writer, author, and radio personality was the Master of Ceremonies for the event and he helped everyone relax and have a great time. And we were so lucky that the weather was beautiful! Check out the photos below.
Our mascot "Godfrey" with our golden retriever Jackson Godfrey.

The costume contest winner with a basket of goodies from Godfrey's - a JRT artiste!

Greetings and new friendships.

Godfrey greets a beautiful southern belle.

The bone hunt begins.

The very clever "Paul Gauguin" gang. Note the picture frames around their necks and the great grass skirts on the canine "models!"

More mingling!

Nothing like a kiss from a basset hound!

An adorable canine "frog princess."
Home | What is dogdom? | Our Products | Our Services | Events | Our Story | Directions
Come visit our shop in the beautiful countryside of Berks County.
We're near the heart of Lancaster County and myriad antique shops,
so make a day of it! Directions to our shop.

Godfrey's
Phone: 610.777.5755
Toll Free Phone: 877-436-4366 (877-4-DOGDOM)
Fax: 610.777.5525
Email: info@godfreysdogdom.com
Address: 4267 New Holland Road, Mohnton PA 19540
Hours: Tues.-Fri. 10-6 Sat. 10-4 Sun. 11-4 Closed Mon.