Megan Esherick, CPDT-KA and Owner of The Clever Hound Dog Training,
is offering Group classes at Godfrey's:
The cost for all group classes is $150 for 6 weeks.
Discounts are available for multiple dogs or multiple classes.
All classes are held in Godfrey's Training Center.
Godfreys classes are held indoors with heat and air conditioning.
One person per dog is allowed in the building, masks are required.
Group classes such as these are intended for dogs who are comfortable learning and working in the presence of other dogs. If you feel this would be a challenge for your dog, private lessons are also available.
These classes start Monday, Feb. 22, 2021:
1:00 pm: Scent Work is for dogs eight weeks and older. We will introduce the dogs to the odors and searches that will be used in the AKC Scent Work program. No previous training is required. There is a $10 materials fee for an optional but highly recommended odor kit for practicing at home.
2:15 pm: Clever Dog class is an obedience and life skills class for dogs with some foundation training. Depending on your dog's level, you may prepare for STAR Puppy, Canine Good Citizen, Community Canine, and Trick Dog titles. We will focus on leash walking, stays, and recalls with progressing distractions as well as some fun behaviors. This class is appropriate for DIF K9 graduates of Puppy Start Right (7.5 weeks-13 weeks old) and DIF K9 "Basic Behaviors" class.
3:30 pm: AKC Rally Novice is for dogs 6 months and older who can reliably sit, lie down, and walk on a loose leash. We will focus on training the behaviors and handling skills required for AKC Rally Novice, with course work included each week.
The foundation behaviors required for Rally Advanced and Excellent may be introduced as well.
4:45 pm: AKC Rally for Competition is for graduates of Rally Novice class or dog and handler teams who have earned a Rally Novice title. The focus will be on skills needed for advanced, excellent, and master courses. Topics such as pivots, jumping, spins, and backups will be covered.
Yes, I'm Interested in one of the above classes! How do I register?
Email cleverhounddogtraining@gmail.com for more information or to sign up for classes. You can also call Megan at 610-203-3228.
Class sizes are limited so that you and your dog will receive individualized attention.
All classes are taught by Megan Esherick using positive reinforcement.
If space is available, drop-in spots are permitted for most classes. Drop-in spots are $25. Please email cleverhounddogtraining@gmail.com for availability if you would like to do this.
If you are interested in one of these classes but have scheduling challenges, please contact Megan to see if an additional class can be added for you.
More About Megan Esherick CPDT-KA CDTI
Megan is a certified professional dog trainer with many years of experience in a variety of dog sports. Megan recently founded The Clever Hound LLC after 17 years as a service dog trainer.
Megan has a bachelor's degree in Small Animal Science and many years of experience training dogs and solving behavior problems using positive reinforcement.
Megan is a Certified Trick Dog Instructor through Do More With Your Dog.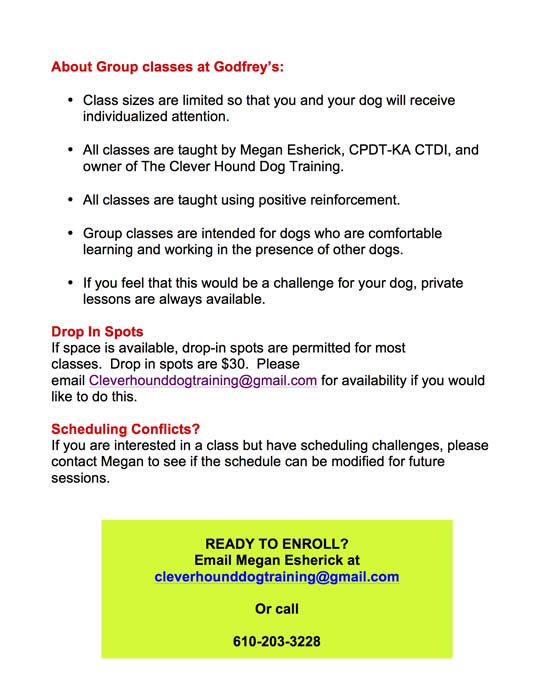 "Like us" on Facebook for Special Godfrey's Discounts and Give-Aways
Follow Me on Pinterest
Home | What is dogdom? | Our Products | Our Services | Events | Our Story | Directions
Come visit our shop in the beautiful countryside of Berks County.
We're near the heart of Lancaster County and myriad antique shops,
so make a day of it! Directions to our shop.

Godfrey's
Phone: 610.777.5755
Toll Free Phone: 877-436-4366 (877-4-DOGDOM)
Fax: 610.777.5525
Email: info@godfreysdogdom.com
Address: 4267 New Holland Road, Mohnton PA 19540
Hours: Tues.-Fri. 10-6 Sat. 10-4 Sun. 11-4 Closed Mon.