Niki and Hughie's Canine Wedding - Sat., June 23, 2007
Ever wonder what a canine wedding would be like if dogs were so inclined to "marry?" How would all of our customs associated with a traditional wedding be played out if two dogs were the participants instead of humans? Well, we had the opportunity to plan and host a canine wedding here on the grounds of Godfrey's. What great fun it was to think it all out from a dog's perspective, then host the wedding of the season!
Two of our play group pups, Hughie and Niki, fell in love. Their human parents came up with the idea and we were on our way! Hughie the groom is a Coton De Tulear and Niki is a Llasa Apso. We had a gala canine wedding ceremony here to celebrate their canine bond. This event was the wedding people are still talking about! The bride and groom, their attendants, the ceremony, the vows, the violinist, the vocalist, the reception, the decorations, Niki's gown and so-o-o much more had over 70 human guests and 15 dog guests smiling and laughing. All of this was done in good spirit to raise money for our local Berks County Animal Rescue League (ARL) for those dogs and other animals who wait for their forever homes. The event raised over $1,000. A HUGE "thank you" to everyone who had a hand in planning, doing, donating and supporting this event.
The ceremony was a way for Niki and Hughie to celebrate their affection for each other and for dogs and humans to have fun; it was not a religious ceremony and both dogs have responsible human guardians. Rest assured, Niki and Hughie are spayed and neutered.
We had a Chinese raffle, fabulous wedding favors for people and dogs, free refreshments and, of course, wedding cake! We also had a "Beer for a Buck". Canine guests were invited to sample dog beer from Happy Tail Ale for a mere $1 donation to the ARL.
Below are some photos of the event. To see many more photos, go to http://public.fotki.com/Nsoroma79/godfreys/. Check them all out! If you want to order anything
on that web site, simply email Lorrie Beard.
| | |
| --- | --- |
| - Niki, the beautiful bride - | - Hughie, the handsome groom - |
| - The ceremony - | - Gizmo, the ring bearer - |
| - Lovely Lucy, a bridal attendant - | - Adorable Yorkie flower girls - |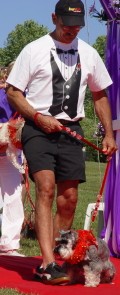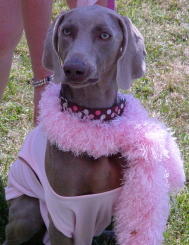 Home | What is dogdom? | Our Products | Our Services | Events | Our Story | Directions
Come visit our shop in the beautiful countryside of Berks County.
We're near the heart of Lancaster County and myriad antique shops,
so make a day of it! Directions to our shop.

Godfrey's
Phone: 610.777.5755
Toll Free Phone: 877-436-4366 (877-4-DOGDOM)
Fax: 610.777.5525
Email: info@godfreysdogdom.com
Address: 4267 New Holland Road, Mohnton PA 19540
Hours: Tues.-Fri. 10-6 Sat. 10-4 Sun. 11-4 Closed Mon.