Greater Reading Area Chamber of Commerce Awards Godfrey's - May 2007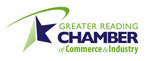 FOR IMMEDIATE RELEASE
Contact:
Barb Emmett, President
Godfrey's -Welcome to Dogdom
4267 New Holland Road
Mohnton , PA 19540
610-777-5755
Godfrey's honored for entrepreneurial excellence

Godfrey's-Welcome to Dogdom was recently honored by the Greater Reading Area Chamber of Commerce for achievements in entrepreneurial excellence. The specialty shop was credited with demonstrating innovation in products and services and creative marketing strategies. The chamber also recognized Godfrey's contributions to the community.

Earlier this month, over 1200 business professionals attended the unveiling of the 2007 Greater Reading Top 50 and the Greater Reading Entrepreneurial Excellence Awards. Godfrey's was one of only two businesses awarded for entrepreneurial excellence.
Godfrey's-Welcome to Dogdom is described as a "unique canine lifestyle experience" and offers items from the exquisite and hard to find to the simple and one-of-a-kind. Nestled in Berks County, Pennsylvania. Godfrey's-Welcome to Dogdom offers a wide variety of dog accessories, snacks, natural foods, and toys. The shop holds an assortment of monthly events for dogs and their owners.

Godfrey's-Welcome to Dogdom is located at 4267 New Holland Road (Route 625), Mohnton PA, a short drive from Reading and Lancaster . The shop offers fine gifts for dog lovers and their dogs Tuesday through Friday 10 a.m. to 6 p.m., Saturday 10 a.m. to 4 p.m., and Sunday 11 a.m. to 4 p.m. For more information and to view a list of upcoming events, visit www.godfreysdogdom.com.

####
---
Home | What is dogdom? | Our Products | Our Services | Events | Our Story | Directions
Come visit our shop in the beautiful countryside of Berks County.
We're near the heart of Lancaster County and myriad antique shops,
so make a day of it! Directions to our shop.

Godfrey's
Phone: 610.777.5755
Toll Free Phone: 877-436-4366 (877-4-DOGDOM)
Fax: 610.777.5525
Email: info@godfreysdogdom.com
Address: 4267 New Holland Road, Mohnton PA 19540
Hours: Tues.-Fri. 10-6 Sat. 10-4 Sun. 11-4 Closed Mon.