When you are lucky enough to live and love your passion, you are a lucky person indeed!
Our passion at Godfrey's is a deep love of dogs and our belief that there our ways of enhancing their well being that can truly make a difference in their quality of life with you.
As a result, when you are passionate about something, you dig deep to learn as much as you can and we've done that over many, many years. We've amassed tons of experience with dogs over the years as well as solid knowledge and information about so many topics in dogdom. We want to help you sift through "the noise" out there to get to the best, most trusted information for your situtation. A great part of Godfrey's mission is to educate and share "the best of the best" for our beloved dogs.
We are providing links and resources here that we find helpful and we think you will, too. We'll be adding content to this section periodically, so check back often! And if you have topic you'd like us to include, please send us an email at info@godfreysdogdom.com.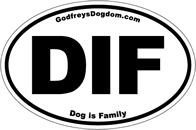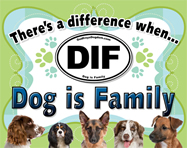 "Dog is Family" Topics on BCTV Cable
Producer and Host: Barb Emmett
Click on the half hour show links below to learn about the topics listed.

Tuesday, October 1, 2013: Barb Emmett and dog trainer Denise Lacey talk about nutrition for dogs, what to look for in a dog trainer and socialization.

Tuesday, November 5, 2013: Barb Emmett and Denise Lacey discussed holidays, food and picking the right dog for your family.
Thursday, December 12, 2013: Amy Auchenbach shares her howliday story of her dog Gabriel. Denise Lacey and Barb Emmett talk about how to manage your canine crew during the holidays and also talk about hot gift items for dogs.
Thursday, January 9, 2014: Denise Lacey talks about how to meet and greet new dogs. Barb Emmett talks about keeping your dog safe in winter. Nicole Weersing talks about canine fitness.
Friday, February 28, 2014: Pat Emmett talks about how to choose pet insurance. Erin Johnson shares her personal story with pet insurance and her dog Emma. Denise Lacey talks about how to prepare for visiting the vet.
Thursday, April 10, 2014: Have Dog - Will Travel! Linda Perroto talks about traveling with her beagle Parker. Denise Lacey shares travel tips. Meghan Garrigus shows travel gear must haves.
Thursday, May 8, 2014: Host Barb Emmett showcased some hot new pet products; Denise Lacey talked about positive reinforcement training; Jeff Werner provided information on raw nutrition.
Thursday, June 12, 2014: Host Barb Emmett talks about pet therapy with Karen Gerth, dog mom and executive director of Keystone Pet Enhanced Therapy Services, and with certified dog trainer Denise Lacey about preparation required to become a therapy dog. Also a positive reinforcement training demonstration with golden retriever Kody.
Pet Insurance
This topics is a "hot one!" More and more, we see people coming into the shop telling us scenarios where their dog needed expensive surgery and they now have a big debt to pay back. Please take time to look into pet insurance to see if it's right for you and your family. It really can provide you with peace of mind that you can get the care your dog needs andfit it into your budget.
Here's a good link to get you thinking: http://www.pet-insurance-university.com/guide_to_pet_insurance.html
The following plans are reviewed on this web site: Embrace-Hartville Group-Healthy Paws-Pet First-Pet Partners/AKC-Pet Plan-Pets Best-PurinaCare-Trupanion-VPI (Dog & Cats)-VPI (Exotic Pets)-24 Pet Watch.
Please keep in my that there's not "one best" pet insurance company out there for you and your dog. Just like our own medical insurance, there are situations that require different solutions. It certainly isn't "one size fits all." And please understand all facets of the insurance-get clarity on what is and isn't covered!
Leading pet insutance companies based on customer satisfaction:
Barb Emmett, owner of Godfrey's, and her husband Pat, spent many hours in 2009 researching the ins and outs of pet insurance and comparing costs vs. benefits. As a result, they chose Embrace pet insurance for reasons that made sense for them, their lifestyle and their goldens. These were their top priorities in selecting a plan: include alternative therapies such as accupuncture, hydrotherapy; fast speed in reimburesment; high percentage coverage based on whatever the veterinarian charged vs. a flat amount based on type of service provided. They really felt good about their plan, where 90% of costs are covered, whether being treated in an emergency center over the weekend (when fees are generally higher) or during regular veterinary hours.
Disclaimer: Godfrey's provides information regarding resources, suppliers and products in good faith and at no charge. However, the information is provided without warranty, expressed or implied, of any kind. Godfrey's makes no guarantee of the merchantability, fitness for a particular purpose, or safety or any of the services or products offered by the individuals, organizations, and/or suppliers named.
---
Home | What is dogdom? | Our Products | Our Services | Events | Our Story | Directions
Come visit our shop in the beautiful countryside of Berks County.
We're near the heart of Lancaster County and myriad antique shops,
so make a day of it! Directions to our shop.

Godfrey's
Phone: 610.777.5755
Toll Free Phone: 877-436-4366 (877-4-DOGDOM)
Fax: 610.777.5525
Email: info@godfreysdogdom.com
Address: 4267 New Holland Road, Mohnton PA 19540
Hours: Tues.-Fri. 10-6 Sat. 10-4 Sun. 11-4 Closed Mon.