4th Annual "HOWL-O-WEEN PAWRADE & PAWTY - Oct. 28, 2007"
This year's event raised over $ 560 for the non-profit group "The Friends of the Reading Police K9 Unit." Thanks to all who came out and contributed to this worthwhile cause.
We kicked our event 4th annual event promptly at 2pm. Paulette Williams, President of "The Friends of the Reading K9 Unit," spoke about this newly formed organization and it's mission to bring back to the City of Reading trained police dogs. Then the parade began and about 28 dogs participated in our festivities while others watched and we had many human spectators as well. The costumes never cease to amaze and delight us. We had one human/canine male duo dressed as fishermen. We'll have to set a category next year for that combination! There were tons of smiles as we all took in the fun.
We awarded prizes to the cutest, the scariest and the most original in size groups then also a group costume award. Afterwards, we had the "Pin the Nose on Snoopy" game and relay races with your dog. There were some real competitors out there! The "Pin the Nose on Snoopy" contest prize was donated to us by Met Life, since Snoopy is near and dear to their hearts. Thank you, Met Life, and to all the rest of the businesses that donated items for the Chinese Raffle. The yummy baked goods provided by volunteers from the non-profit group were also much appreciated. There were many happy faces from those who won Chinese raffle prizes, many to local restaurants. And the beautiful, Fall table arrangement donated by Sharon Forte was won by Gabby, who is "owned" by a doberman! The delicious mulled cider warmed us all up and the human and dogs enjoyed the free refreshments. We hope you all had as much fun as we did! We're already thinking about combining our costume contest event with a "Fall Festival" event for next year.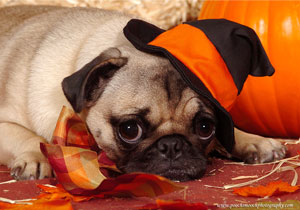 You can view tons of photos from our event by visiting
If you want to download any images from that web site at full resolution so that you can print them on your own computer, just download the "original" sized image. (You can choose Small, Medium, Large, XLarge, Original).

Thank you, Jeremy, for taking these photos and making them available to the public. Jeremy is the human dad to Lincoln, an
energetic yellow lab who plays in one of our play groups.
---
Home | What is dogdom? | Our Products | Our Services | Events | Our Story | Directions
Come visit our shop in the beautiful countryside of Berks County.
We're near the heart of Lancaster County and myriad antique shops,
so make a day of it! Directions to our shop.

Godfrey's
Phone: 610.777.5755
Toll Free Phone: 877-436-4366 (877-4-DOGDOM)
Fax: 610.777.5525
Email: info@godfreysdogdom.com
Address: 4267 New Holland Road, Mohnton PA 19540
Hours: Tues.-Fri. 10-6 Sat. 10-4 Sun. 11-4 Closed Mon.