Featured Products 2009
The staff at Godfrey's are shoppers, too, and they know how important it is to find special gifts for the ones you love, both canine and human. Let us help you find that perfect gift or put together a custom gift basket for you!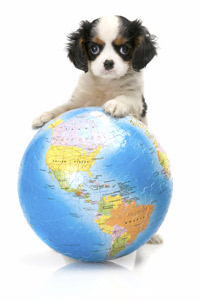 "Theme" Gifts
Shopping for someone who loves to spend time in the outdoors with his or her dog? We'll help you assemble a wonderful gift collection for both of them; things you've probably never thought about, like a life preserver for the dog who loves to swim, a tent just for the camping dog, muttluk boots, and books about dog-friendly parks.
Is one of your friends bringing home a puppy? We've got great puppy items to delight both the puppy and the new human parents, including a receiving kit, toys, a journal to document the years, announcements,etc.
Know your friend likes to bath his or her dog? Get them a wonderful bath collection, including shampoo, freshening spray, bath towel, eye wash, and ear wash.
Travel theme gift suggestions include carriers, portable water bowls, doggles eyeglasses, and car seat covers.
Custom Gift Baskets
Let us help you put together the perfect gift basket for that certain someone or stop by and pick up one that we've already put together. Right now in our shop we have a terrific "Guys and Dogs" basket which is perfect for a guy and his best buddy, his dog; an "Oh, So Cute Puppy" basket, and a "Get Well" basket for a dog who's a bit under the weather. You can trust us to select high-quality items that the dog and dog parent will love and thank you for. And to make life even easier for you, we can deliver the basket for you for a nominal fee if the delivery is within 10 miles of our shop location!
A few very special items for dog-loving people: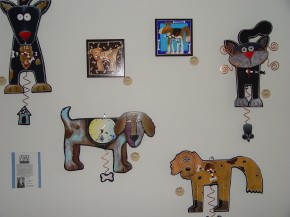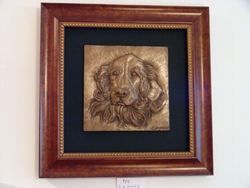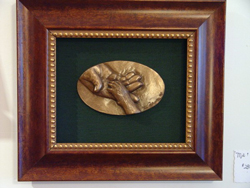 Michelle Allen clocks, made in U.S. Cast bronze by local sculptor, Rick Summons: "Jackson Godfrey" and "Ma and Paw"

Whimsical clocks and jewelry

Your favorite breed embroidered on a denim jacket, denim shirt, golf shirt, hat, or vest (items must be special ordered-don't delay in ordering!)

'Fritzi Dog" clay polymer dog sculptures. Each piece is handcrafted and no two are alike.

Sterling silver dog breed pin/pendants by Courtney Designs (limited breeds available)

Embroidered tockings, eyeglass cases, purses, cosmetic cases in various breeds

Beautiful cookie jars, aprons, hotpads, travel umbrellas in various breeds
A few terrific items for your canines, just to name a few:

Dog Beer - a healthy alternative to your dog slurping from your own beer bottle!

Unique, american made, handknit sweaters that are absolutely adorable for the smaller breeds

Elegant, cushioned back seat car hammocks from Bowsers to keep them travel-safe

Organic, plush toys and mats for the environmentally-sensitive canine - "Go Green"

Loopies of all sizes

Leather step-in harnesses from Buddy Belts

Small breed leather step-in harnesses from Choke-free in metallic colors
And introducing Godfrey's fresh baked biscuits in mouth-watering flavors: turkey sausage, mozzarella and sundried tomato; bacon, egg and cheese; chicken, apricot and bleu cheese; and peanut butter and cheddar cheese!
Any day is the perfect time to bring home a beautiful new plush microvelvet bed, or at least after your dog is no longer chewing up shoes, socks, bedspreads, etc.! Choose from over 65 fabrics to fit your decor and your dog's sleeping style preference!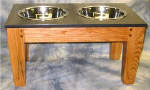 Fawski feeder in oak, with Antracite Corian top - Dog dining in style!
---
Home | What is dogdom? | Our Products | Our Services | Events | Our Story | Directions
Come visit our shop in the beautiful countryside of Berks County.
We're near the heart of Lancaster County and myriad antique shops,
so make a day of it! Directions to our shop.

Godfrey's
Phone: 610.777.5755
Toll Free Phone: 877-436-4366 (877-4-DOGDOM)
Fax: 610.777.5525
Email: info@godfreysdogdom.com
Address: 4267 New Holland Road, Mohnton PA 19540
Hours: Tues.-Fri. 10-6 Sat. 10-4 Sun. 11-4 Closed Mon.