"PERFECT PAIR" Photo Contest Winner 2007
Thanks to all of you who entered our first "Perfect Pair" photo contest during the month of February 2007! Our independent panel of judges reviewed all entries and selected this photo as the one where the human and their dog most resembled each other. Lauren received a $25 gift certificate to Godfrey's, and Zelda had some input on how the $25 was spent! Congratulations, Lauren and Zelda!
Also, on behalf of the Animal Rescue League of Berks County, a huge "Thank you" for the generous donations from our contest entrants. All we asked for as an entry fee was one donated item, and most all of you donated more than 1 item, and all very useful items. Your generosity is most appreciated by the homeless dogs at the rescue!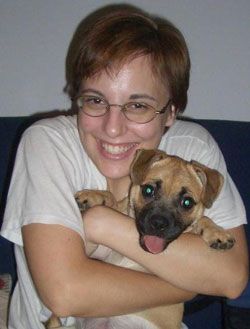 Here's what Lauren tells us about her "jug" named Zelda:
Her mom was a Pug and her dad was a Jack Russell Terrier. Her likes include FOOD of any kind, even stuff that wouldn't normally be considered food (like beautiful living room rugs… grrr!). She also loves to chase her tail and do tricks. She can "high five" and shake with her right or left paw, she can roll over in either direction, she can give nose kisses on command, she can stand on her hind legs, and she can stand up and give a double high five, too. "Now, that we've got the tricks down though," Lauren says, "maybe we need to go back to working on obedience lessons." Zelda is very high energy, but she does like to snuggle once in a while, and she doesn't like baths.
Zelda celebrated her 1st birthday on March 18, 2007!
START COLLECTING YOUR "PERFECT PAIR" PHOTOS DURING THE YEAR. WE'LL HAVE ANOTHER CONTEST IN FEBRUARY 2007, AND WE EXPECT MORE PEOPLE TO ENTER. LOOK FOR DETAILS ABOUT THE CONTEST IN JANUARY 2008.
---
Home | What is dogdom? | Our Products | Our Services | Events | Our Story | Directions
Come visit our shop in the beautiful countryside of Berks County.
We're near the heart of Lancaster County and myriad antique shops,
so make a day of it! Directions to our shop.

Godfrey's
Phone: 610.777.5755
Toll Free Phone: 877-436-4366 (877-4-DOGDOM)
Fax: 610.777.5525
Email: info@godfreysdogdom.com
Address: 4267 New Holland Road, Mohnton PA 19540
Hours: Tues.-Fri. 10-6 Sat. 10-4 Sun. 11-4 Closed Mon.