Richard Summons, Artist and Sculptor
It's always exciting to find artists who enjoy working on dog-themed artwork. While Rick has extensive background in various mediums and designs and pursues various creative themes, we are currently showing three of his cast bronze dog-themed pieces here at Godfrey's. He can complete your work in bronze or marble.
Rick is always receptive to our ideas for new art items. The one we're extremely proud of is "Ma and Paw," a cast bronze piece. This piece, depicting a human hand holding a canine paw in it's palm, is very touching and symbolic of the gentle and emotional bond between humans and dogs.
Not only is this piece a perfect gift to give to that special someone who truly loves their own dog or dogkind, it would be the most fitting gift to give to someone involved in animal rescue. What a tribute to them. It is also lovely to give to someone who has lost a beloved pet. It speaks volumes without saying a word.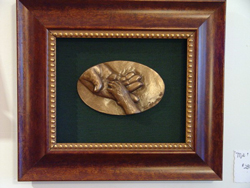 Another item he has done for us is a cast bronze head study. Below you will see Barb's Jackson Godfrey as an example of his work. Sculpting as an art form is such a tactile experience. Rick met Jackson here at the shop and, as sculptors tend to do, he thoroughly felt Jackson's head with both hands and took home various photos of him as well. He returned to the shop after he had completed the clay sculpture so that she could review and approve it. He also wanted to check his own work by seeing Jackson again in the physical form. He then went back to his studio in Sinking Spring to complete the bronze process. Barb absolutely loves this piece and you can imagine why. The piece is mounted on a dark velvet green background and framed in cherry wood.
Consider ordering this one of a kind piece of your dog for that very special person in your life.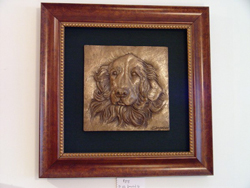 ---
Home | What is dogdom? | Our Products | Our Services | Events | Our Story | Directions
Come visit our shop in the beautiful countryside of Berks County.
We're near the heart of Lancaster County and myriad antique shops,
so make a day of it! Directions to our shop.

Godfrey's
Phone: 610.777.5755
Toll Free Phone: 877-436-4366 (877-4-DOGDOM)
Fax: 610.777.5525
Email: info@godfreysdogdom.com
Address: 4267 New Holland Road, Mohnton PA 19540
Hours: Tues.-Fri. 10-6 Sat. 10-4 Sun. 11-4 Closed Mon.