"My Funny Valentine" Celebration Sat., Feb. 14, 2009
Wow! We have a fantastic turn out and an amazingly fun time at our Valentine's Day Celebration. Thank you to all who came out for some fun and made it the success that it was! It certainly was something to bark about. I don't think we've ever seen that many dogs in our shop at one time. It was almost chaos, but a happy, controlled chaos. All the dogs were gracious and patient while they waited their turn to sit for a caricature. Many of our customers wanted three or more faces on one piece, so things got a little crazy; we'll rethink some of that next time we do this so that it runs more smoothly for our customers.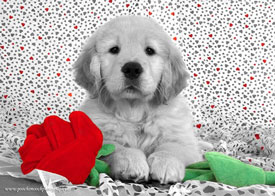 Cheryl's Eli as a young pup-Photo courtesy of poochsmoochphotography.com
We need to thank many folks who helped with this event:
- Our good friend, Gail, handled our human and canine refreshments. She laid out a lovely decorated table filled with treats for people and humans. She baked up a pan of the BowWow Brownies for dogs and cut them into heart-shaped treats. They are a healthy, soft nutritious treat for dogs and, of course, we sell them pre-made in containers or you can mix and bake them yourself. Gail's a fantastic baker and she baked up heart-shaped sugar cookies and chocolate chip cookies for humans. She also put out an assortment of nuts and candies. and the table decorations looked beautiful. Thank you, Gail!
- We were flabbergasted when one of our customers asked if if would be OK if she baked a cake for the dogs. Are you kidding? How wonderful! We reviewed her recipe choices and selected one made up of bananas, apples and pumpkin. It was heart-shaped and was frosted with a yogurt mixture. She decorated it with beautiful red roses. Knowing how much we believe in natural coloring and that we don't want to serve artificial colorings, she concocted a natural red color made up of red beet juice. It was an AMAZING cake. It was so-o pretty that we hesitated in cutting and serving it. Oh, but once we started there was no going back. The dogs LOVED, LOVED it. Thank you, Loretta! We encourage you to keep on baking!
- Emily Anthony, professional caricaturist, came out to us on such short notice for our event. We had hired her for two hours only (from 10-12), but there was such interest in her work that she ended up staying the whole day. We handed out over 66 numbers (first come, first serve number system) and she did them all!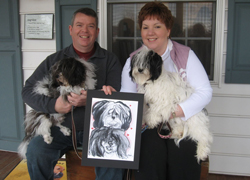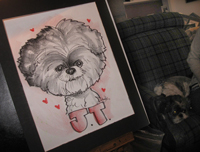 - Lorraine Storms, certified canine massage therapist, offered free canine mini-massages from 10:30-2pm. Believe me, that helped with the waiting times and we hope that the canines that took part let their humans know that they'd appreciate getting a full massage here in the future! Lorraine is here the second Sat. of every month for private appointments.
We kicked off our first ever "Bedroom Sale" and we decided to continue it through the end of February. You will find tremendous sales up to 40% off on human and canine apparel, beds and other goodies found in our "bedroom." This seemed like a perfect fit for our Valentine's Day theme (here's winking at you...get the connection?) It's also nearing the end of the cold winter season and we're thinking ahead to apparel for warmer days. We still have pretty many sweaters for dogs and the ever popular "Wag More Bark Less" long-sleeved sweatshirts for people. We'll also have a selection of winter coats on sale, too. The sale will end Feb. 28th and applies only to in-store items.
We also launched our raffle for the limited edition Fab Imperial Dog/Cat Bed with the crown stuffed toy. Many of you have admired this bed and wanted to take it home for your precious one to snuggle in. Only 350 of these beds were made. It was designed after the famous and highly collectible Faberge eggs from Russia. This bed was made in the US and it comes with it's own Certificate of Authenticity. The edition is just about sold out but we still have one! It comes with a steep price tag of $350, so we decided to sell raffle tickets for it at $ 5.00 a ticket. We want one lucky dog or cat to take this bed home and enjoy it! We will announce the winner at our Easter Egg/Bone Hunt Celebration Day in April. All proceeds from the raffle will be donated to the Animal Rescue League. Come on, take a chance and know that you're helping homeless animals in our neighborhood. And if the bed size or style isn't your type, just imagine how wonderful it would be to give it as a gift to one of your friend's furry children.
Tickets will be on sale from Feb. 14, 2009 - April 11, 2009. The winner will be drawn at our annual Easter Egg/Bone Hunt on April 11, 2009.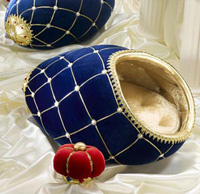 For your little Czar or Czarina we offer this fabulous faux jewel encrusted Imperial bed with its own Imperial Crown toy. Covered in deep royal blue velvet and lined in gold velour, this handcrafted bed will be the talk of the town. A first in the pet industry, this Faberge-inspired work of art is limited to 350 worldwide and includes a Hand Signed and Numbered Certificate of Authenticity . Size is approximately 23.5" long by 17.5" wide. Velour cushion is machine washable - tumble dry low. One Size - not recommended for dogs or cats over 17 lbs.
---
Home | What is dogdom? | Our Products | Our Services | Events | Our Story | Directions
Come visit our shop in the beautiful countryside of Berks County.
We're near the heart of Lancaster County and myriad antique shops,
so make a day of it! Directions to our shop.

Godfrey's
Phone: 610.777.5755
Toll Free Phone: 877-436-4366 (877-4-DOGDOM)
Fax: 610.777.5525
Email: info@godfreysdogdom.com
Address: 4267 New Holland Road, Mohnton PA 19540
Hours: Tues.-Fri. 10-6 Sat. 10-4 Sun. 11-4 Closed Mon.