Wellness Fitness and Conditioning Programs for Canines
At Godfrey's we are all about the whole canine-mind, body and spirit. We like to think in terms of taking a pro-active approach to health by doing things to prevent health problems in the future. We humans are used to thinking about wellness for ourselves; the same philosophies for wellness can be applied to our dog's lives.
DEFINITION of WELL·NESS —noun
- an approach to health care that emphasizes preventing illness and prolonging life, as opposed to emphasizing treating diseases.
- the quality or state of being healthy in body and mind, esp. as the result of deliberate effort.
It's all about nurturing the mind, body and spirit: the best nutrition you can feed your dog, plenty of water, regular exercise, play, stimulation and learning, natural healing, body conditioning to remain strong, natural supplements when needed, complimentary holistic treatments used in conjunction with conventional veterinary care and lots and lots of love and positive experiences. Check out our services and start something fun and healthful for you and your dog today!
Godfrey's-Welcome to Dogdom provides an in-house scale for customers to weigh their dogs. This service is free for customers. Call Godfrey's to learn how to use the scale and to check it's availability.
Knowing your dog's weight is the first step in awareness to helping your dog maintain a healthy weight. This is important for growing puppies as well as for dogs with medical conditions whereby they need to gain weight or lose weight. Also, recognizing changes in weight without changes in diet or lifestyle may help you detect a health condition early.
"GoPet PetRun" Treadmill Service
At Godfrey's-Welcome to Dogdom, you can book private time on the "GoPet PetRun" enclosable canine treadmill for dogs up to 176lbs. A free, Introductory Session is required prior to booking times for your dog. There is a Wellness Loyalty Rewards program.
Fee: $15 for a 15 minute session on the treadmill. Additional fees for longer times available.
Participating in indoor treadmill sessions can help dogs burn some energy off in inclement weather, strengthen and build conditioning for everyday lifestyle needs, and build endurance in dog sports.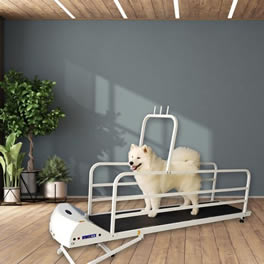 FitPaws Private Conditioning Sessions
What's this all about? Your dog will be working at various FitPaws stations doing low-impact exercises to increase musculature in the hind end and help gain balance control. Types of exercises include "dog squats," and repetitions of sit-to-stand on top of a FitPAWS® Peanut and Doggie Push-ups to increase shoulder strength, which shifts weight while challenging their center of gravity. You will be assisting your dog with the various exercises. Time on the canine treadmill may be included.
Who's the Class Instructor? Nicole Weersing, Godfrey's Treadmill and FitPaws® Instructor, and Puppy Start Right Instructor, at Godfrey's. Nicole has previous work experience as an assistant in veterinarian rehabilitation where exercise equipment was used. In 2012, Nicole attended Instructor training on FitPaws equipment in Longmont, Colorado, the home of Ball Dynamics and FitPaws, reinforcing her skills.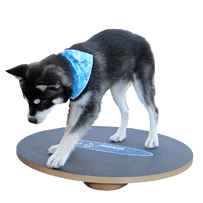 Note: Our sessions are intended only for healthy and sound dogs. These sessions are not intended to replace medical advice or rehabilitation techniques; they are intended to be used to maintain health and wellness. Before beginning this program, please consult your veterinarian.
Watch this great video, demonstrating the use of FitPaws equipment at an AKC show. This is the equipment we use in our classes. Notice how muscles are stretched and strengthened, balancing work is done and dogs are having fun in the process! Don't worry, we sell low calorie, high quality yummy treats to motivate!
---
Home | What is dogdom? | Our Products | Our Services | Events | Our Story | Directions
Come visit our shop in the beautiful countryside of Berks County.
We're near the heart of Lancaster County and myriad antique shops,
so make a day of it! Directions to our shop.

Godfrey's
Phone: 610.777.5755
Toll Free Phone: 877-436-4366 (877-4-DOGDOM)
Fax: 610.777.5525
Email: info@godfreysdogdom.com
Address: 4267 New Holland Road, Mohnton PA 19540
Hours: Tues.-Fri. 10-6 Sat. 10-4 Sun. 11-4 Closed Mon.