"Like" Dog is Family K9 Training for special offers, training tips, announcements and more!

"DIF K9 Training" is the training function of Godfrey's-Welcome to Dogdom, LLC.
The meaning of our business name reflects how all of us here at Godfrey's feel...Dog is Family (DIF)!
Did you know that dog training is an unregulated industry? This means that anyone can call themselves a trainer, with no requirements for education or certification, and no professional oversight or standards!
Godfrey's sets high standards in all things "dog". We want to attract and work only with certified trainers with well-respected credentials in this field. We believe in true professionalism in the world of dog trainers.
That's why we chose our Training Manager and Puppy Start Right Instructors from the Karen Pryor Academy. Karen Pryor Academy is widely considered one of the the most rigorous and science-based schools for positive dog trainers. It's program requires that students learn how to train other species of animals because their training methods appy to any living organism whether it's a horse, a rabbit, or a cat!
The Karen Pryor Academy also holds its certified trainers accountable to the highest standards of training and client care and this is of utmost importance to us as we want the best for our clients and their dogs.
This requires our trainers to take leading canine learning education and to commit to continuing education and professional development.
for puppies between 7-12 weeks of age!
Learn more about this program and get started asap.
(No Orientation Session required.)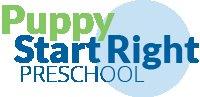 ---------------------------------------------------------------------------------------------------------
What's Next? What else is available?
I want more!
offered by Megan Esherick from
Scent Work, Clever Dog Obedience and Life Skills, AKC Rally Novice, and AKC Rally for Competition!
Any Dog Sports Classes?
Dog Sports Classes
AKC RALLY NOVICE


Our philosophy is to help your dog become an active, valuable member of your family by working with behavior techniques that are fun, easily understood, and rewarding to your dog and family. We only use a positive, reward based training process that is based on the principles of clicker training, a way of training animals in which desirable behavior is marked with a sound maker and then reinforced, making the behavior more likely to happen in the future.
Check out our Training Resources for more information about positive reinforcement training.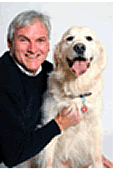 Training Program Manager and Instructor: Pat Emmett, BS, KPA-CTP, CPDT-KA
Pat is a graduate of the Karen Pryor Academy for Animal Training & Behavior and is a Certified Training Partner of the Karen Pryor Academy (KPA-CT), graduating with distinction. He also achieved certification from the Council for the Certification of Professional Dog Trainers and has also passed the Knowledge Assessment (CPDT-KA). He is also a Puppy Start Right Preshool™ curriculum instructor. As a Certified Training Partner, Pat has taken the Karen Pryor Academy Pledge.
NOTE: As of 1/1/2022, Pat has retired from teaching private 1 on 1 Basic Behaviors classes. Megan Esherick, owner of The Clever Hound Dog Training, is now offering group classes at Godfrey's on week days and evenings. She also offers private 1 on 1 classes on Thursday and Friday afternoons at Godfrey's.

In Oct.2019, Pat Emmett earned the "Client Endorsed" distinction through KPA's voluntary Assurance, Commitment, and Education program, a system for ensuring that members continue to meet the organization's high standards.
Retired as President of his company after 37+ years in food production and distribution services, Pat began taking a more active role at Godfrey's, working alongside his wife, Barb, the owner of Godfrey's-Welcome to Dogdom. He immediately saw a need to assist families assimilate a new dog as a valuable member of the family unit. His passion and interest in helping them took off.
Having a love of dogs goes way back for Pat. He was raised in a home where dachshunds ruled-both his parents and grandparents cherished the breed. He attained a Bachelor of Science (BS) in Business during his college years. When it was time for him and Barb to bring a dog into their young married life, they chose an english springer spaniel, named him Casey, and he lived a long and happy life with them. Along the way, they had great cats, too, who shared their home. In 1998, their first golden retriever, Tucker, came into their lives. Life was busy keeping up with Tucker! Training classes, hikes, tons of walks, park runs, etc. Love of the breed, love of dogs, and their adoption of another golden retriever, led him to become involved with a local rescue group, Delaware Valley Golden Retriever Rescue (DVGRR). Wanting to help the organization grow, he took a position on their Board, serving over 7 years, and co-chaired the capital campaign to raise money needed to purchase a permanent shelter facility on Vera Cruz Road in Reinholds. DVGRR met their goal in 9 months! During the early days of rescue work at the new facility, Pat took many shifts, working with the rescue goldens. Many times you could find him in a kennel run with a kind but scared golden, coaxing and encouraging the dog and slowly working on building trust. As the organization grew and volunteers learned the ropes, he continued on the Board until he was needed to help at Godfrey's! Pat and Barb remain members of the DVGRR organization.
Knowing how therapy dogs can comfort others and literally change lives for the better, and wanting to do more with his own dogs, he pursued obtaining therapy dog certification. In 2012, he enrolled in a therapy dog orientation session run by Keystone Pet Enhanced Therapy Services (www.kpets.org), and in no time at all, he and Lake were certified as a Therapy Dog Team! They continue to make monthly visits to a local adult community center and help out at other KPETS events.
Pat and and his wife Barb reside with an English Cream Golden Retriever named Keeper (born 5-2021).Pat is a graduate of Wilson High School, Shippensburg State College, and is a Private Pilot. He also enjoys playing racquetball.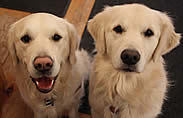 Lake and Charlie, both certified KPETS Therapy Dogs, spreading smiles! Lake passed away in Jan. 2020 and Charlie passed away in August 2021.
Instructo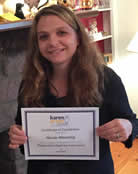 r: Nicole Weersing, Certified Karen Pryor Instructor for "Puppy Start Right" Program.
Nicole loves all dogs and she really loves getting puppies off on the right paw! She and her husband are parents of both two-legged and four-legged kids. She has a special affinity for boxers! She's worked with dogs for many years, and is a natural at helping folks learn to be better dog parents. She completed the Karen Pryor "Puppy Start Right' Instructor certification in June 2015, then mentored under Pat Emmett, Godfrey's Training Manager and Istructor. Nicole is the Play Park Coordinator, FitPaws® Wellness and Conditioning coach and a Senior Sales Associate at Godfrey's!
"Like" Dog is Family K9 Training for special offers, training tips, announcements and more!


Follow Me on Pinterest
Home | What is dogdom? | Our Products | Our Services | Events | Our Story | Directions
Come visit our shop in the beautiful countryside of Berks County.
We're near the heart of Lancaster County and myriad antique shops,
so make a day of it! Directions to our shop.

Godfrey's
Phone: 610.777.5755
Toll Free Phone: 877-436-4366 (877-4-DOGDOM)
Fax: 610.777.5525
Email: info@godfreysdogdom.com
Address: 4267 New Holland Road, Mohnton PA 19540
Hours: Tues.-Fri. 10-6 Sat. 10-4 Sun. 11-4 Closed Mon.