Check out TV show "Dog is Family" on local cable channel BCTV-Comcast Channel 15.
Go to bctv.org and search 'dog is family' for prior shows or watch it LIVE there!
The next show will be on Friday, April 27, 2018 at 12noon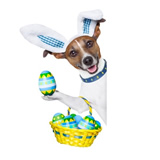 News & Chews:
"Yappy Hour" Meet and Greet with Billy Hoekman, Answers Pet Foods, Tuesday, April 3, 5pm-7pm NEW!
Open till 7pm-Extended hour! Wine and Cheese! $100 Drawings for Answers products!
"Meet the Artist-Karen Weber-Sat., April 7, 1pm-3pm NEW!
"Damsel in Defense"-Feeling Safe on Your Dog Walks, Sat., April 21, 1pm-4pm NEW!
Get Started! KPETS Therapy Dog Certification: Next Orientation May 12, 2018 1-3:30pm
KPETS Therapy Dog: Prep Classes On Going!
Professional Pet Photography Sessions in 2018 at Godfrey's
Innovative "Puppy Start Right Preschool™"
TRAINING: Positive Reinforcement Training, Dog Sports and Specialty Classes at Godfrey's
Orientation Sessions for "Basic Behavoirs" Class: Saturdays at 11am! Attend and sign up for class
Rolling Enrollment-Start the week you and your dog are ready! No waiting!
Monday Group Classes start Feb., 26, 2018 NEW!
Pet Food Updates-Stay Informed

"Like us" on Facebook for Special Godfrey's Discounts and Give Aways

Follow Me on Pinterest

Godfrey's - Welcome to Dogdom is a very special place where you and your dog can come to shop, train, relax and play.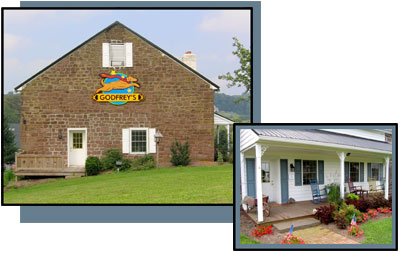 At Godfrey's, you'll find handcrafted creations, jewelry, artwork, apparel, toys, natural foods, gourmet treats, outdoor adventure gear, and many other delightful surprises for you and your dog, all creatively displayed in our "house" – just as they would be found in yours!
Our retail selection is strongly focused on: items made in the USA (many handcrafted by regional juried artists); international "Fair Trade" items; items that "give back" to animal causes, and items created with a strong sense of environmental responsibility. Our foods, treats, and supplements are second to none and our education and knowledge about our products will help you make better selections for your dog's life.
Come visit us…share dog stories, find that special gift for yourself or others, or enjoy the country view from one of the rocking chairs on the porch. Join our play groups and run and play with your dog in our safe, fenced dog parks.

Godfrey's is truly a celebration of dogs in our lives. We live and believe in a happy canine lifestyle, where dogs are truly members of the family. We embrace our responsibility to care for their minds, bodies and spirits in the absolute best way possible.
If you love dogs, you'll love Godfrey's…we're so much more than a canine store!
Keep barking up the right tree...stay connected with us and other Godfrey's fans on Facebook!

"Like us" on Facebook for Godfrey's Discounts and Give Aways!
Home | What is dogdom? | Our Products | Our Services | Events | Our Story | Directions
Come visit our shop in the beautiful countryside of Berks County.
We're near the heart of Lancaster County and myriad antique shops,
so make a day of it! Directions to our shop.

Godfrey's
Phone: 610.777.5755
Toll Free Phone: 877-436-4366 (877-4-DOGDOM)
Fax: 610.777.5525
Email: info@godfreysdogdom.com
Address: 4267 New Holland Road, Mohnton PA 19540
Hours: Tues.-Fri. 10-6 Sat. 10-4 Sun. 11-4 Closed Mon.