Check out TV show "Dog is Family" on local cable channel BCTV-Comcast Channel 15.
Go to bctv.org and search 'dog is family' for prior shows or watch it LIVE there!
The next show will be on Thursday, Sept. 11, 2014 at 7pm.
This program is underwritten by Godfrey's.
News & Chews:
Positive Reinforcement Training, Dog Sports and Specialty Classes at Godfrey's
Specialty classes!
==> What's Flyball? Pure canine fun!
What's Treibball? Think ball herding!
Pet Food Updates-Stay Informed

"Like us" on Facebook for Special Godfrey's Discounts and Give Aways
Follow Me on Pinterest

Godfrey's - Welcome to Dogdom is a very special place where you and your dog can come to shop, relax and play.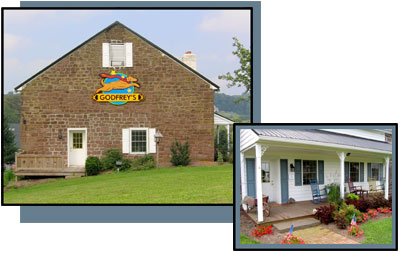 At Godfrey's, you'll find handcrafted creations, jewelry, artwork, apparel, toys, natural foods, gourmet treats, outdoor adventure gear, and many other delightful surprises for you and your dog, all creatively displayed in our "house" – just as they would be found in yours!
Our selection is strongly focused on: items made in the USA (many handcrafted by regional juried artists); international "Fair Trade" items; items that "give back" to animal causes, and items created with a strong sense of environmental responsibility.
Come visit us…share dog stories, find that special gift for yourself or others, or enjoy the country view from one of the rocking chairs on the porch. Join our play groups and run and play with your dog in our safe, fenced dog parks.

Godfrey's is truly a celebration of dogs in our lives. We live and believe in a happy canine lifestyle, where dogs are truly members of the family. We embrace our responsibility to care for their minds, bodies and spirits in the absolute best way possible.
If you love dogs, you'll love Godfrey's…we're so much more than a canine store!
Announcing...
Keep barking up the right tree...stay connected with us and other Godfrey's fans on Facebook!
"Like us" on Facebook for Godfrey's Discounts and Give Aways!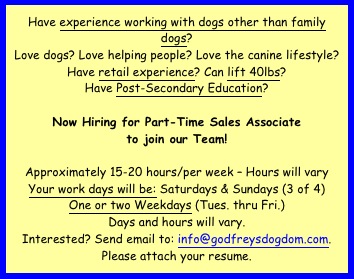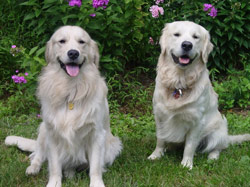 We're golden!
Stop by to meet Lake, our "Official Greeter in Training,"
and his brother, Charlie! Charlie is on the left and Lake is on
the right in the photo. Barb & Pat adopted Charlie, a 20 month old
golden, from Delaware Valley Golden Retriever Rescue
(www.dvgrr.org) in July 2010 and oh how happy we all are!
The boys are like brothers. What a wonderful match. Thank you,
thank you, DVGRR, for selecting Charlie for our household. We
are so appreciative of all the work that you do to help golden
retrievers find their forever homes! Can you tell them apart?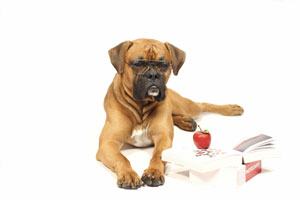 "Back to School" Continuous Learning for Canines
NEW TRAINING PROVIDER - GREAT EXPERIENCE - FUN CLASSES!
Our philosophy at Godfrey's is to always keep learning about the amazing dogs we share our lives with and to seek out new and different ways to live a true canine lifestyle with them. We look at dog training differently than most-it's really taking part in all kinds of new learning experiences with your dog.
In July 2012, we formed a business relationship with certified dog trainer Denise Lacey, owner of The Companionable Canine Ltd. She's got a terrific amount of experience in the dog training world as well as the world of dog sports. She also has a terrific resource bank of professional contacts to bring in for specialty skills and topics. We are very excited to have her working with us to offer high quality, fun and positive reinforcement training here at Godfrey's. Take a look at the upcoming schedule of Manners training classes and dog sports classes Agility,Treibball (Ball Herding), Flyball, and Rally-Obedience. Visit the scheduling page often! In the future you'll see additional dog sports-stay tuned! We also have special interest seminars scheduled, too, such as "Confidence Builders" and "Just Got Home" for rescued dogs. Register online at www.compk9.com. To talk to Denise by phone, call 610-996-5959!
Home | What is dogdom? | Our Products | Our Services | Events | Our Story | Directions
Come visit our shop in the beautiful countryside of Berks County.
We're near the heart of Lancaster County and myriad antique shops,
so make a day of it! Directions to our shop.

Godfrey's
Phone: 610.777.5755
Toll Free Phone: 877-436-4366 (877-4-DOGDOM)
Fax: 610.777.5525
Email: info@godfreysdogdom.com
Address: 4267 New Holland Road, Mohnton PA 19540
Hours: Tues.-Fri. 10-6 Sat. 10-4 Sun. 11-4 Closed Mon.